Intermatic Surge Protectors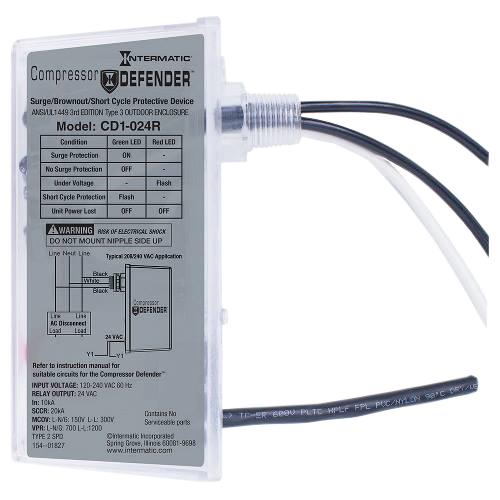 A surge protector (or surge suppressor or surge diverter) is a device designed to protect electrical devices from voltage spikes. A surge protector attempts to limit the voltage supplied to an electric device by either blocking or shorting to ground any unwanted voltages above a safe threshold. We offer a line of surge protectors specifically designed to protect your valuable HVAC equipment, minimizing power-related issues and avoiding costly repairs.
The Compressor Defender™ is the only all-in-one undervoltage and surge power protection device on the HVAC Market, providing protection for central A/C and heat pump condensing units and their associated motors, controls, and components—both electronic and mechanical. It can be installed inside the condensing unit or externally on the outdoor A/C disconnect. Autosense voltage technology protects at any voltage from 120-240 VAC, making it an ideal solution for residential or light commercial installations. Trusted, state-of-the-art TPMOV® (Thermally Protected Metal Oxide Varistor) surge protection technology eliminates the potentially hazardous failure modes that are associated with standard MOV technology. The device is also designed with integrated, 3-minute short cycle time delay protection.